#Abilympics par Noël Roger, Président @AbilympicsFR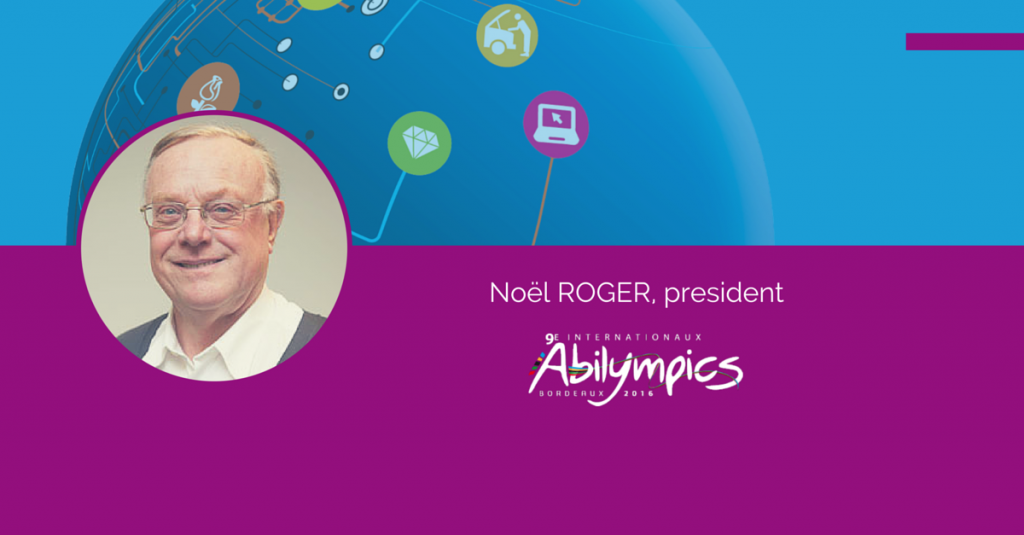 Les ABILYMPICS ? Cela vous dit quelque chose ?
Vous ignorez sans doute ce que sont les Abilympics. Ils sont dans la sphère des MÉTIERS, ce que sont
dans le sport les jeux paralympiques au regard des jeux Olympiques, une compétition internationale
ouverte aux personnes handicapées du monde entier.
La France accueillera à Bordeaux, en mars 2016, les 9èmes Internationaux ABILYMPICS.
Plus de 600 candidats, venant de 35 pays, participeront à cette manifestation, la seule compétition des métiers au monde, exclusivement ouverte aux personnes handicapées, quelle que soit la nature de leur handicap.
En nous demandant d'organiser cet événement, le Ministère du Travail, de l'Emploi, de la Formation professionnelle et du Dialogue Social, le Secrétariat d'État aux Personnes handicapées et l'Association des Régions de France, membres fondateurs de l'Association Abilympics France, ont souhaité non seulement faire connaître dans notre pays le mouvement Abilympics, mais aussi à travers cette compétition, démontrer que les candidats handicapés sont des personnes en capacité d'acquérir des compétences professionnelles et de les valoriser.
Le slogan #Abilympics France : une personne, un talent, un métier. Noël Roger, psdt Abilympics… Click To Tweet
Chaque personne, quelle qu'elle soit, quel que soit son handicap, possède un, voire plusieurs talents qui peuvent s'exercer dans le monde professionnel.
Le slogan des 9èmes Internationaux #Abilympics : venez changer votre regard sur le #handicap ! Click To Tweet
S'il s'agit pour nous, à travers cette compétition, de sensibiliser les employeurs publics ou privés à
l'emploi des personnes handicapées, d'une manière générale, l'objectif principal de la manifestation est de permettre de changer les regards, afin de voir les personnes en tant que personnes et non en tant
qu'handicapés.
C'est aussi une belle aventure humaine, que vivra notre équipe de France, composée de 60 candidats venant de toutes les régions.
Venez rencontrer, les 25 et 26 mars prochains, les candidats des 5 continents, qui participeront à cet événement international.
Noël ROGER
Président d'Abilympics France