L'art, un langage universel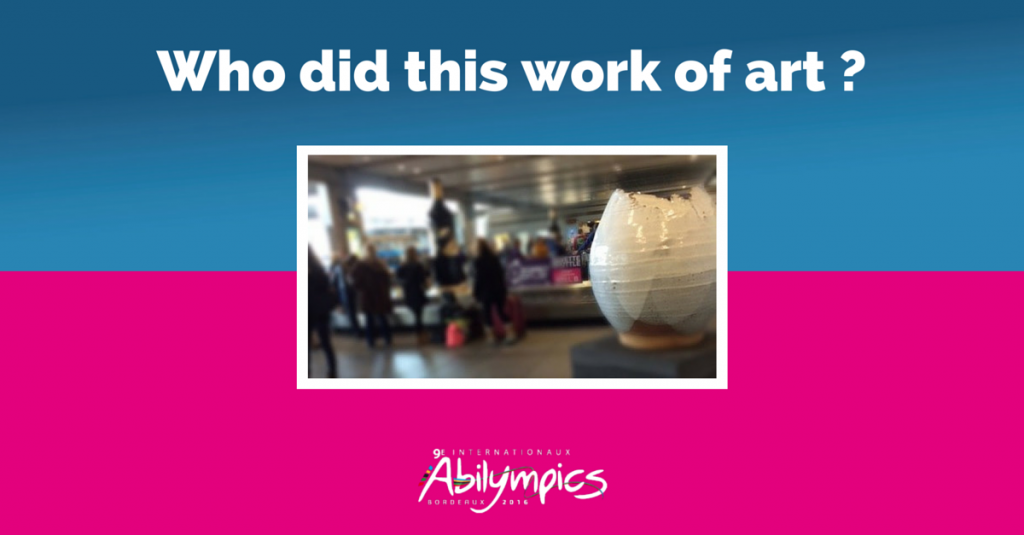 L'aéroport de Bordeaux-Mérignac accueille jusqu'à dimanche pour les #Abilympics une exposition qui met en valeur le travail d'artistes handicapés et valides… Soulevant  la question suivante : qu'est ce qui distingue le travail de deux artistes ? Une chose est sûre, ce n'est pas le fait qu'il ait ou non un handicap !
Cinq artistes handicapés représentants la France aux Abilympics, chacun dans sa catégorie, et quatre artistes valides se sont prêtés au jeu : montrer que le professionnalisme, la personnalité artistique, sont indépendants d'un quelconque handicap, ou pour reprendre le slogan des Abilympics : "Une personne, un talent, un métier - Common skills, uncommon people".
Une personne, un talent, un métier #abilympics Click To Tweet
Ils oeuvrent dans des domaines aussi différents que la vannerie, la peinture, le tricot, la joaillerie, la sculpture, la maroquinerie, la photographie, la peinture sur soie ou la céramique.
Petit tour d'horizon pour vous donner envie de passer par l'aéroport ce week-end :
Sculpture : Trophée officiel des Abilympics 2016 crée par Pierre Kauffmann

, sculpteur statutaire, portraitiste, ornemaniste, et aussi conseiller-Expert durant ces 9e Internationaux Abilympics sur l'épreuve « Sculpture sur bois ».

Parure de Frank Greveldinger

, joaillier de profession, et

 également membre de l'équipe de France des 9e Internationaux Abilympics.

Corbeille en osier réalisée par Pascal Rouchouse

, diplômé de l'école nationale d'osiériculture vannerie et membre de l'équipe  de France des 9e Internationaux Abilympics.

Photographie de Peggy Halna du Fretay

:" C'est un jeu de miroir qui me permet de montrer qui je suis réellement et non pas tel que je parais. Dans le miroir, on ne voit pas mon handicap."
Nous sommes tous vulnérables, alors pourquoi catégoriser la société ? @DuHalna #Abilympics Click To Tweet
Bouddha de Sophie Castebert

, membre de la team abilympics France dans la catégorie peinture sur soie.

Sac « La fleur », de Mathieu Wieczorek

, musicien, tonnelier, et maintenant maroquinier, Mathieu est un passionné.

Paysage de Laurence Schaeverbeke

. Après la Sorbonne et l'école du Louvre, Laurence est maintenant depuis une dizaine d'années, responsable d'arts graphiques pour adultes à l'

AGJA

. Cette œuvre représente un parcours de vie, avec ses limites et ses débouchés.

Châle élaboré par Sonia Biarrotte

. Sonia a appris à tricoter et à crocheter avant même de savoir lire et écrire, un loisir qui s'est vite transformé en passion.

Oeuf d'Alien, poterie de David Anquetil

. La

poterie David et Lucie

est un atelier familial. Mêlant des pièces, des techniques traditionnelles et des œuvres contemporaines. Cette œuvre représente un œuf qui éclot, en référence au film Alien.
Nous vous encourageons chaleureusement à aller admirer ces oeuvres saisissantes, et surtout à venir constater le défi relevé par nos champions sur leur terrain, aux Abilympics les 25 et 26 mars (inscription ici). Nous vous promettons une chose :
Vous allez #changerderegard sur le #handicap ! #Abilympics Click To Tweet