Autisme et Insertion professionnelle : lire le monde différemment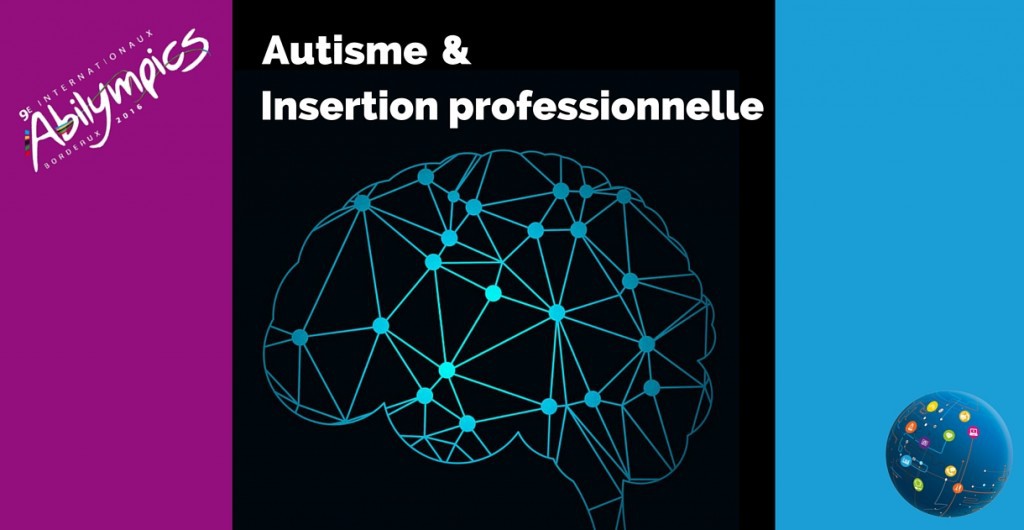 L'image classique de l'autiste :
Un homme emmuré dans le silence, se balançant frénétiquement d'avant en arrière.
L'autiste, pour le commun des mortels, c'est Rain Man, c'est Birdy. C'est "l'autre", celui qu'on ne comprend pas.
L'autisme en vrai
Dans la réalité, l'autisme (ou plus exactement trouble du spectre autistique – TSA), ce sont différents obstacles plus ou moins handicapants dans le rapport aux autres.
Syndrome d'Asperger de l'X fragile, Syndrome de Landau-Kleffner, Syndrome de Rett, Trouble désintégratif de l'enfance et TED-NOS (troubles envahissants du développement non spécifiés) sont autant de types d'autisme avec des manifestations spécifiques.
Toutefois, ces formes d'autisme ont en commun une difficulté à comprendre et à interpréter le monde de la même façon que les neurotypiques (personnes neurologiquement "valides").
Le syndrome Asperger est sans aucun doute le plus connu du spectre. Malgré ces difficultés dans la relation interpersonnelle, les personnes atteintes de ce trouble possèdent une intelligence qui peut être égale ou très supérieure de la moyenne.
Actuellement, l'autiste le plus célèbre est assurément Bill Gates, fondateur de Microsoft, rien de moins. On suppose que de nombreuses figures historiques ont également marqué leur temps de leur "regard différent" : Andy Warhol, Vincent Van Gogh, Mozart, Marie Curie, Thomas Jefferson, Orson Wells selon le livre "Ces autistes qui changent le monde" de Norm Ledgin paru en 2008.
L'accompagnement
De façon générale, les gens souffrant d'un TSA présentent les caractéristiques suivantes :
Ils doivent avoir une vie réglée et un environnement structuré.

Ils sont facilement perturbés par les modifications et les imprévus.

Leur niveau de sensibilité et d'anxiété est exacerbé.
L'adaptation de l'entourage personnel et professionnel est donc indispensable.
Depuis quelques années, divers programmes voient le jour pour permettre aux personnes autistes d'intégrer le marché de l'emploi.
En Israël, une université adaptée va ouvrir ses portes cette année. Sans critères de sélection, elle acceptera ces profils atypiques mais remplis de potentiels que sont les étudiants atteints de TSA (source : https://informations.handicap.fr/art-universite-etudiant-autisme-24-8527.php)
La Belgique, quant à elle, s'est dotée d'un lycée pour enfants autistes et dysphasiques où les ressources et les apprentissages ont été spécialement adaptés à leurs besoins. Bien encadrés, ces élèves révèlent parfois des capacités surprenantes. Pour en savoir plus, vous pouvez visionner le reportage d'Arte à ce sujet.
Des intervenants informés, des étudiants bien formés
En France, il existe des programmes d'accompagnement pour aider les personnes autistes à intégrer des établissements réguliers d'études supérieures.
En Normandie notamment, l'association HandiSup a lancé le projet SIMON. Cette association propose une sorte de "coaching" personnalisé assurant le lien entre les intervenants scolaires ou professionnels et les étudiants autistes. Ces chargés de mission évaluent les environnements de travail et les capacités de l'étudiant. Ils aident aussi les enseignants ou responsables de stage à comprendre les spécificités des étudiants atteints d'autisme.
L'association HandiSup a également publié un guide à destination des employeurs afin de faciliter l'intégration des autistes en milieu professionnel.
Tous les types de postes ne peuvent s'adapter aux besoins des travailleurs autistes.
Toutefois, le potentiel intellectuel des personnes atteintes de TSA est réel. Ils excellent particulièrement dans les tâches de minutie. Au-delà des clichés de l'autiste "geek", il existe de nombreux domaines dans lesquels leurs compétences particulières sont reconnues et appréciées : bibliothécaire, archiviste, jardinier, réceptionniste, comptable, cuisinier, informaticien, logisticien, gardien de sécurité, traducteur, correcteur, etc … (source : http://www.actionsautismeasperger.org/page/pour-les-personnes-asperger-et-les-autistes-de-haut-niveau )
Penser « out of the box »
Ce n'est pas un hasard si plusieurs inventeurs ou artistes ont été diagnostiqués autistes. Bien que handicapante dans la vie quotidienne, cette caractéristique neurologique offre un champ de pensée hors du commun. Avec un schéma de pensée en arborescence, le cerveau de ces personnes fourmille d'idées hors du cadre. Dans certaines situations professionnelles, cette capacité à penser différemment est un avantage indéniable.
L'exemple de Josef Schovanec est révélateur des possibilités qu'ont les personnes porteuses du Syndrome d' Asperger. Écrivain, docteur en philosophie atteint de cette maladie, il invite à considérer la différence non plus comme un handicap mais comme une porte ouverte sur un autre monde.
Des personnages plein la tête
Parmi les candidats des Abilympics, Rémi Anfif, atteint d'autisme, représentera la France dans la compétition des « character designers ». Responsables de la création des personnages d'animations, ces dessinateurs interviennent tant au cinéma que dans les jeux vidéo.

Le 25 et 26 mars prochain, Rémi aura alors l'occasion de nous montrer que l'univers des autistes est riche et ouvert sur un monde haut en couleurs !